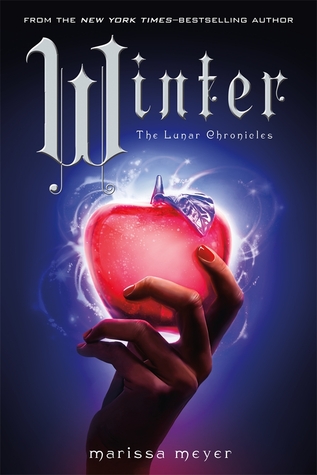 by
Marissa Meyer
Princess Winter is admired by the Lunar people for her grace and kindness, and despite the scars that mar her face, her beauty is said to be even more breathtaking than that of her stepmother, Queen Levana.

Winter despises her stepmother, and knows Levana won't approve of her feelings for her childhood friend--the handsome palace guard, Jacin. But Winter isn't as weak as Levana believes her to be and she's been undermining her stepmother's wishes for years. Together with the cyborg mechanic, Cinder, and her allies, Winter might even have the power to launch a revolution and win a war that's been raging for far too long.

Can Cinder, Scarlet, Cress, and Winter defeat Levana and find their happily ever afters? Fans will not want to miss this thrilling conclusion to Marissa Meyer's national bestselling Lunar Chronicles series.
Source: Borrowed
My Thoughts:
This review should have been up ages ago but don't worry Winter is here!
I remember reading Cinder (the first book in the series) and not being extremely impressed.But Meyer has constantly surprised by improving with each book in the series and Winter was no exception. With each book Meyer introduces more characters and as a reader I'm extremely surprised how the narrative remains coherent despite it's change in voice and constantly shifting focus.
I love how each story despite focusing on a completely new and novel idea doesn't forget it's fairy tale roots. Cinder focused on Cinderella, Scarlet on Red Riding Hood , Cress on Rapunzel and Winter focuses on Snow White. My only complaint is that it doesn't focus as much as I would have liked on the Snow White tale.
Winter ties up all the loose ends and it ties them up well. I have no need for a sequel, I am satisfied with how it ends. This doesn't mean it is a happy end but it is an end that doesn't make me want a spin off. Due to the fact that it needs to tie up so many loose ends, Winter is an extremely lengthy novel (especially when compared to other YA novels) but I think it was necessary. To keep the symmetry Meyer would have had to introduce even more characters if the story would have spanned five books and I don't think the narrative would have remained coherent.
Cress is still my favourite novel in the series but Winter is how I would have liked the story to end. I cannot recommend this series enough. It was extremely predictable in the beginning but then it kept taking me by surprise. Just hang in there especially if you love retellings or fairy tales.
My Rating:
4.5/5