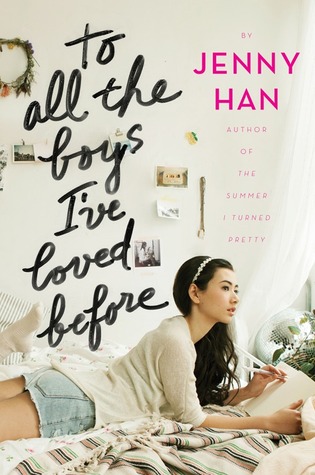 To All the Boys I've Loved Before
(To All the Boys I've Loved Before #1)
To All the Boys I've Loved Before is the story of Lara Jean, who has never openly admitted her crushes, but instead wrote each boy a letter about how she felt, sealed it, and hid it in a box under her bed. But one day Lara Jean discovers that somehow her secret box of letters has been mailed, causing all her crushes from her past to confront her about the letters: her first kiss, the boy from summer camp, even her sister's ex-boyfriend, Josh. As she learns to deal with her past loves face to face, Lara Jean discovers that something good may come out of these letters after all.
Source: Library
Younger readers are advised that there is some promiscuous content and birds and bees talk in the book.
My Thoughts:
I didn't have very high expectations of this book especially after I found out it was written
by
Jenny Han.Her
The Summer I Turned Pretty
series is not one of my
favorites
. I loved the premise of the book so I picked it up even though Jenny Han has disappointed me before.
I loved this book! It's young adult contemporary romance at its best and I love how it
gives insight into Korean culture
as well. I had a very strong desire to eat Korean food after reading this book because of the beautiful way in which it was described.
Lara Jean is such a relateable character. Her relationship with her family especially her sisters was beautiful. It's been a long time since I've seen a healthy representation of family life in young adult.This, in my opinion is one of the major plus points of this book. Parents and family exist for once in Young Adult and it's beautifully implemented.
The characters are well defined and are realistic as is the story. The drama is not melodramatic and the book left me wanting more. The idea of letter writing and how it's formatted in the book really adds authenticity to the book.
The ending might not satisfy some people but I loved it. In my opinion this book doesn't need a sequel but I think it already has one. I'm too scared to spoil the perfection that is this book by reading a continuation that quite a few people on Goodreads have stated is unnecessary. Well, if my library procures it I might read it but I'm very satisfied with just reading this book as it was great.
It's a great contemporary romance young adult after a really long time which got me out of my reading slump so I can't recommend it enough. The only reason it is not a full 5 stars is because I didn't like some of the male characters but that is just my opinion.
Overall, Where's my Korean food at?
My Rating:
4.5/5
Beautiful
Comment with your thoughts and suggestions on what Korean dish I should try.