So I had signed up for Once Upon A Readathon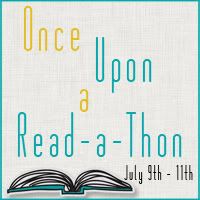 Unfortunately this week has been really
hectic
for me so I've only managed to read one book so far and that is
I'd actually started this before the readathon but I've read about 270 pages as part of the readathon. I'm planning on starting and getting midway through
before the day gets over...So wish me luck!
What is your most anticipated book for 2012?
It's a tie between Undeadly ,Onyx and Foretold.
Onyx and Foretold come out August.
Once upon a time there was a bookish fight…
As the story teller, I now want you to tell me which two characters are fighting and WHY! If you want to, you're also more than welcome to guess the outcome. ;)
Once upon a time Bellatrix and Myrnin were having a fight over who was more mentally unstable.Bellatrix pointed out that she laughed when people cried and loved torturing little girls and boys.Myrnin countered that he loved driving his food little slave girl up the wall and threatened her continuously.(Bellatrix is annoyed about this as she doesn't have the patience to threaten people she just kills them ) .I think it's going to be a tie between them...