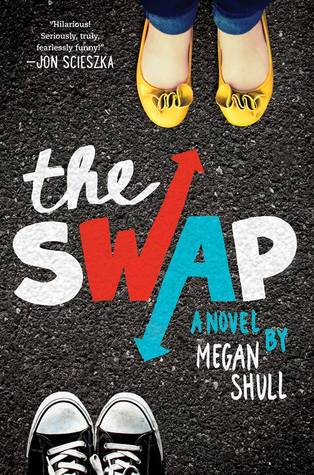 "YOU BE ME...AND I'LL BE YOU."
ELLIE spent the summer before seventh grade getting dropped by her best friend since forever. JACK spent it training in "The Cage" with his tough-as-nails brothers and hard-to-please dad. By the time middle school starts, they're both ready for a change. And just as Jack's thinking girls have it so easy, Ellie's wishing she could be anyone but herself.
Then, BAM! They swap lives—and bodies!
Now Jack's fending off mean girls at sleepover parties while Ellie's reigning as the Prince of Thatcher Middle School. As their crazy weekend races on—and their feelings for each other grow—Ellie and Jack begin to realize that maybe the best way to learn how to be yourself is to spend a little time being someone else.
Source:
Edelweiss (Thanks HarperCollins!)
My Thoughts:
It's been a long time since I've read middle school fiction. I was afraid that I had outgrown it and it wouldn't hold my attention.This book proved me wrong. This is such a nice and sweet novel that I wouldn't mind re-reading it.
When I first read the synopsis it reminded me of the movie Freaky Friday . I really enjoyed that movie and if you did as well, I think you might like this book. Ellie and Jack are different, not just their gender but their personalities as well. It was such fun reading about how each of them dealt with the other's life.
The issues of the characters might seem petty at times but I was having too much fun reading about the circumstances each managed to land themselves in.
I loved the fact that family doesn't suddenly disappear in the novel. Family is very important in this novel and it was nice to finally read a novel in which the parents didn't conveniently disappear.
The ending was unexpected but I liked it. I liked it a lot.
Overall, this was a feel good novel that was really funny in parts and I love these kinds of novels.
My Rating:
Toss up between 3.5 and 4!