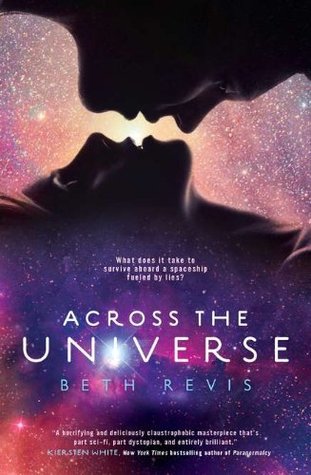 by
Beth Revis
A love out of time. A spaceship built of secrets and murder.
Seventeen-year-old Amy joins her parents as frozen cargo aboard the vast spaceship Godspeed and expects to awaken on a new planet, three hundred years in the future. Never could she have known that her frozen slumber would come to an end fifty years too soon and that she would be thrust into the brave new world of a spaceship that lives by its own rules.
Amy quickly realizes that her awakening was no mere computer malfunction. Someone - one of the few thousand inhabitants of the spaceship - tried to kill her. And if Amy doesn't do something soon, her parents will be next.
Now Amy must race to unlock Godspeed's hidden secrets. But out of her list of murder suspects, there's only one who matters: Elder, the future leader of the ship and the love she could never have seen coming.
Links:
Amazon.COM
, Goodreads ,Amazon India
(The cheaper version is currently out of stock in Indian online sites but you can try the notify me option on this site )
Source: Borrowed
My Thoughts:
So I've been having a bit of a hard time finishing a novel for some time. This is the first novel that I have finished since Mid-May (I think) so I think it deserves props for keeping me engaged.
The best thing about this novel is the world building. I loved it. I love the world building and how everything is set in space and the condition that these people live in. I am loving the YA science fiction genre (*cough* These Broken Stars love *cough*) . The high point of the entire story in my opinion was the world that is introduced to the reader. I enjoyed learning more and more about the world.
This book is told from dual point of view of Amy and Elder, the main protagonists. I was never confused between their voices. They both have distinct voices and perspectives. Which fits together in this book pretty well. You get to see the same thing in two perspectives and it's not repetitive.
The writing in some places is beautiful. Some of the dialogues and feelings that are portrayed through the words really kept me hooked . The problem is that the author is not very good at building up the mystery and keeping it unpredictable at the same time. I knew almost everything that happened in the climax pretty soon. There were some surprises of course but most of the twists, I had already predicted.I think by the time the climax came along I was just happy that there were atleast SOME things I had not managed to predict.
Another issue I had with this book is how some serious issues and problems were handled or should I say NOT handled at all.The issues just seem to be brushed aside.The world they live in is different and I like how they show how different it is but how some issues were portrayed and handled, I was disappointed with. As I want to avoid spoilers, I'll just hint towards it. There's a pretty heartbreaking discovery that happens near the end and it's not really addressed or it seems it's just swept under the rug. Maybe the author plans to address it in the sequel but this is just one of the examples. The characters just seem to handle these issues in a robotic manner and not even have any emotional dialogue on them, which just didn't sit right with me.
Overall,I did enjoy the novel and am interested to read what happens next. I want to learn even more about this world and the space they live in. I also really enjoyed some of the dialogues and parts of the writing immensely.I just thought I would point out the reasons why I'm not giving this a higher rating even though it managed to keep me entertained and hooked till the end.
My Rating:
3/5