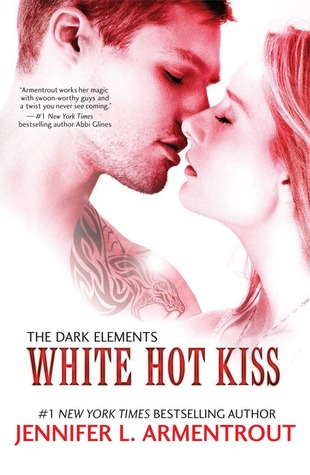 One kiss could be the last.
Seventeen-year-old Layla just wants to be normal. But with a kiss that kills anything with a soul, she's anything but normal. Half demon, half gargoyle, Layla has abilities no one else possesses.
Raised among the Wardens—a race of gargoyles tasked with hunting demons and keeping humanity safe—Layla tries to fit in, but that means hiding her own dark side from those she loves the most. Especially Zayne, the swoon-worthy, incredibly gorgeous and completely off-limits Warden she's crushed on since forever.
Then she meets Roth—a tattooed, sinfully hot demon who claims to know all her secrets. Layla knows she should stay away, but she's not sure she wants to—especially when that whole no-kissing thing isn't an issue, considering Roth has no soul.
But when Layla discovers she's the reason for the violent demon uprising, trusting Roth could not only ruin her chances with Zayne…it could brand her a traitor to her family. Worse yet, it could become a one-way ticket to the end of the world.
Source: Publisher (Thanks HarlequinTEEN!)
My Thoughts:
I was really looking forward to this book as I'm a Jennifer Armentrout fan. I've read a lot of her books and I follow her releases so I was DYING to get my hands on this. Unfortunately this book did not live upto my expectations and left me disappointed.
As stated above this is not the first Jennifer Armentrout book I've read. I've read both the Lux series and Half Blood series, and this book's situations and characters reminded me of both. I understand that this book was written before both series but published later.

It was almost like I was reading a hybrid of both the Lux series and the Half Blood series and not in a good way.

It was very hard for me to form a connection with characters that were shadows of characters that I already loved.I was very close to not finishing this one because I just didn't feel like reading a book that wasn't even a patch on her other series.
The gargoyles angle was interesting but there wasn't a lot of focus on it.This is also not the first gargoyle novel I've read so the idea of gargoyles wasn't as novel to me as it might be for others. Maybe they will focus on the gargoyles more in the sequel but the focus wasn't on gargoyles on this one.
This book focuses on Layla , a teenage girl adopted by the gargoyles who is restless and wants to be "helpful" by kicking ass and putting herself in danger.Instead of focusing on the gargoyles and their history the author chooses to focus on Layla's adventures with demons and her romantic feelings. Which may sound good but I think it would have been better if there would have been more focus on gargoyles. There are already so many books that are on demons that there's nothing that really interests you about them in this book. Layla is also a character that is not easy to like .
Zayne, Layla's crush is also someone that I for one did not like. He's CLEARLY either REALLY dumb or he's leading her on.Both of which are not traits that make you as a reader like or swoon over him.
Roth is the only saving grace of the novel and he is a LOT like Daemon in ways.

I like how he riles up everyone and is pretty clear about what he wants, though he is a demon. I also like how he's unpredictable.I really wanted to know more about his back story. Armentrout gives us a nice glimpse into this character.
The plot could have been much better. It had so much potential but the story drags in some places and doesn't manage to hold my attention. Good thing is that once you really get into the story , you hang in there till the end. The problem is getting into the story.The ending was unpredictable and in a way shocking.
The problem is that even when I reached the end I didn't really care much for the characters.
Overall, you might enjoy this novel a lot if this is your first Armentrout novel but if it isn't you might feel a sense of deja-vu while reading the novel.The plot is interesting and the ending shocking. The pacing could do with some work. I might check out the sequel but right now I'm not too sure. I might just snuggle with the last Lux book instead.
My Rating: